Other Activities
Other Activities
<< Main Functions << Main Functions
Encouraging a 'Family spirit'
Finance is not the only concern. If a missionary's length of service is significant when they retire they are invited to join the 'RMAF Family'.
Eligibility criteria have been established to help the Trustees decide who may be invited into the 'The Family'.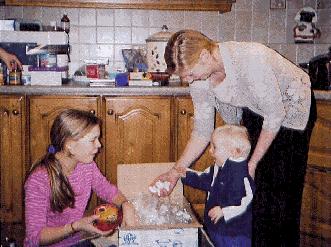 The RMAF sends Parcels at Christmas to members of 'The Family'. Those members resident in the UK also receive Cards on their Birthdays along with a small gift, usually of Tokens, to those who are able to use them. The photograph reproduced shows the daughter and grandchildren of two of our family sharing in the joy and excitement of exploring an RMAF Christmas Hamper gift.
The Fund does what it can to encourage a family spirit of care and interest amongst its members. A standard letter is sent each quarter by the Secretary, giving details of some RMAF family news. When acknowledging these letters and gifts to the Secretary, Family members often give news of their circumstances and details of some of their future plans.
The Editor of our Newsletters takes extracts from these to pass on through the Quarterly newsletters. The Family newsletter is arranged by days of the month with information related to those members of the Family as shown in the List of Names and Addresses updated in January annually. In this way news is circulated and prayer fellowship is encouraged within the family. Such information is also made available to supporters of the Fund who request it. The names of some of the RMAF family are listed in Echoes Daily Prayer Guide and some information such as home-calls and changes of address is passed on through Echoes magazine.